Non-Destructive Testing Inspection Services
Pressure Equipment Directive (PED) Procedures
CE Approval
For
Fabricators
Welder
Training
& Consultancy
Leader in NDT
Engineering Inspection Specialists is a leader in Non-Destructive Testing in Ireland; delivering customised solutions and the highest quality service to its customers for over twelve years.
Our Experience
Our services are backed up by an established team of highly skilled PCN/ASNT approved technicians, well equipped facilities and internationally recognised accreditations.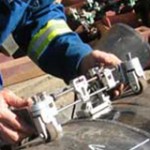 Inspection Specialists
EIS inspections and testing services offer our customers in the fabrication sector assurance and peace of mind that the quality levels they require are being achieved.
Technical Assurance
EIS delivers technical assurance by reducing risk and non-productive time through the provision of sample examination, which provides a complete picture of the asset's condition.
Testimonials
Balcas currently use EIS to handle breakdowns and planned maintenance shutdowns. After starting to work with them in 2008, EIS quickly become our preferred provider. They have consistently delivered a high quality of service and we find them to be flexible, reliable and capable of providing a highly tailored approach to any problems that we have encountered.
Johnathan Pollock Energy Plant Manager Balcas Timber
Dunreidy Engineering are a leading turnkey Mechanical, Electrical Contracting & Fabrication Co. employing over 100 people delivering substantial projects for clients throughout Ireland, UK, Europe, USA & China. EIS is our sole Inspection & Test provider, & are professional, flexible, helpful & reliable. They also offer significant back up service & practical advice..  
Dunreidy Engineering Michael Daly
Cork Precision Tool Co. manufactures C.N.C. precision components for the oil & gas industry worldwide. EIS perform a number of different N.D.E operations on these components before & after they are machined, heat treated & coated; ranging from Hardness Testing, Magnetic Particle Inspection, Dye Penetrant Inspection, Positive Material Identification & Ultrasonic Examination. ELS provide outstanding customer service, quality documentation, on-time delivery & value for money.
James A. Barrett, MD Cork Precision Tool Co.
EIS have been providing Welding Inspection Services and Technical Back up to Thompsons for many years. We have always been extremely happy with the prompt, efficient and excellent service they provide.
Sarah-Ann Austin, Thompson Project Management
We would have no hesitation in recommending Engineering Inspection Services (EIS). The staff are knowledgeable and courteous and provide a quality service at all times..
Tommy Lambe, Operations Director, Kells Stainless